DrFormulas® 28 Ingredient Joint Supplement with Glucosamine Sulfate, Chondroitin, MSM (Formerly Mendamine), 180 Tablets
Regular price $22.37 $22.37 Sale
DrFormulas® Joint Supplement is a revolutionary joint supplement which help maintain optimum bone and joint health and promote a healthy inflammatory response.
Contains 27 ingredients including Glucosamine Sulfate, Chondroitin Sulfate, MSM, Fish Cartilage, Boswellia Serrata, Phytosterols, Hyaluronic Acid, and Boron.
180 Tablets, 60 days supply. Does not contain artificial colors and flavors, chemical preservatives, or gluten.

Made in a Good Manufacturing Practices (GMP) facility in the USA from US and imported ingredients.
Our comprehensive formulation takes a two-pronged approach to joint health.
It has ingredients that have anti-inflammatory characteristic to support a healthy inflammation response. 
It provides many essential joint nutrients that your chondrocytes (joint cells) need to grow and stay healthy.
DrFormulas® Joint Supplement is a revolutionary joint supplement that combines more than your typical glucosamine, chondroitin, and MSM combination. DrFormulas® Joint Supplement has all the ingredients that maintain optimum bone and joint health. It takes a two-pronged approach to supporting joints:
1. Phytosterols, High-quality Boswellia serrata extract, and many other ingredients to promote a healthy inflammation response
2. Glucosamine sulfate, chondroitin sulfate, MSM and many other ingredients to provide essential joint nutrients that nourish your joints and support joint mobility.
What's in
DrFormulas

®

 Joint Supplement

?

Fish Cartilage
Joint discomfort is caused by problems with cartilage. By consuming cartilage, you may provide your own joints with essential nutrients.

New Zealand Green Lipped Sea Mussel
New Zealand green lipped sea mussel (Perna canaliculus) has demonstrated anti-inflammatory properties. It has been found to be helpful for arthrtis in dogs.
Links to peer-reviewed articles: 1

Plant Phytosterols
Phytosterols are plant compounds that help lower bad cholesterol but have been recently found to reduce inflammation. An inflammatory response in joints can lead to greater joint damage.
Links to peer-reviewed articles: 1

Boswellia serrata extract
The Boswellia serrata plant, or frankincense, has been traditionally used in ayurvedic medicine for joint discomfort. It has potent anti-inflammatory characteristics.
Search for peer-reviewed articles
Glucosamine Sulfate
Glucosamine is an amino acid sugar and is a precursor for glycoaminoglycans which are a major component of joint cartilage.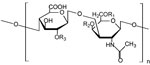 Chondroitin Sulfate
Chonroitin sulfate is one of the essential ingredients for joint comfort. Glucosamine and chondroitin form the backbone of most supplements.

Methylsulfonylmethane (MSM)
MSM is a source of sulfur that is also found in fruits, corn, tomatoes, tea, coffee, and milk. Sulfur is a major component of protein. One study found it to support joint health.
Hyaluronic acid
Hyaluronic acid is an essential substituent of the lubricating synovial fluid present in between joints.

Vitamin D3
Vitamin D3 is commonly taken with calcium but it also has found to promote a healthy inflammatory response by the European Union.
Magnesium
Magnesium is another essential mineral for metabolic processes. Hundreds of enzymes require magnesium ions to function. Moreover, osteoporosis is less prevalent in people with magnesium-rich diets.

Manganese
Manganese is an essential trace nutrient. In one study, rats not getting enough of it developed weaker bones.

Boron
Boron helps the body to absorb calcium by minimizing calcium lost through urination. Like Bioperine™, boron helps make sure that the ingredients in DrFormulas® Joint Supplement end up where they are needed the most.

Bioperine®
Bioperine™ is a proprietary extract of black pepper. It has been found to increase the bioavailability of certain herbs like curcumin. Links to peer-reviewed articles: 1
DrFormulas® 28 Ingredient Joint Supplement with Glucosamine Sulfate, Chondroitin, MSM (Formerly Mendamine), 180 Tablets
Joint relief
I joint continue to be free of pain
Still hoping for some relief
This far my purchase has yet to provide any relief but I'm still hopeful.
Pain free
I have been using this along with turmeric and great combination for osteoarthritis
Joint free
I just received today and cannot wait to start the t to treat my joint pain!