Matte Mineral Sunscreen SPF 30 for Oily Acne Prone Skin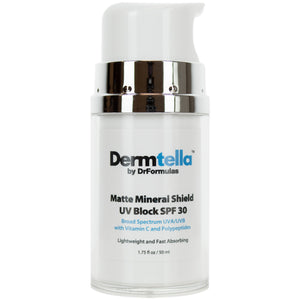 Regular price $33.00 Sale
Matte Mineral Sunscreen delivers broad-spectrum UVA/UVB and blue light protection. With vitamin C, it helps aid in the prevention of free radical and oxidative damage. This unique formulation is ideal for daily use without greasiness and serves a perfect primer under makeup. It is light weight and non-oily designed for all skin types including sensitive skin and acne-prone skin.
Benefits:
Universal tint to match all skin color.

Matte finish and oil free


Suitable for sensitive and acne prone skin

 

Decreases the appearance of fine lines and wrinkles

Lightweight and fast absorbing

Contains vitamin C and mineral filters 
Ingredient Highlights:  Zinc Oxide 3.7%, Titanium Dioxide 10.2%

Vitamin C and antioxidants:

Studies have shown that using sunscreen with Vitamin C protects the skin from further photo damage caused by ultra-violet rays.

Zinc Oxide:

Serves as a powerful UV filter against UVA and UVB. It also 

a skin protectant with anti-inflammatory and skin-calming properties, making it beneficial for sensitive, oily and acne prone skin.

Vitamin E:

 

V

itamin E can absorb the energy from ultraviolet (UV) light and prevent UV-induced free radical damage to skin.

Iron Oxide: 

is particularly good at absorbing UVA and blue light, also known as high energy visible or HEV.

Polypeptides:

Peptides are amino acids that are the building blocks of certain proteins needed by the skin, like collagen and elastin. Using a serum or moisturizer that contains peptides can lead to firmer and younger-looking skin.