Tinted Sunscreen with Niacinamide SPF 46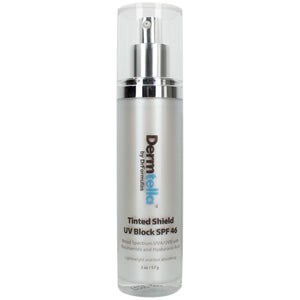 Regular price $26.00 Sale
A universally tinted, light weight and oil-free SPF 46, ideal for oily and acne-prone
skin, contains an innovative blend of skin soothing and restoring properties. Tinted Shield UV Block SPF 46 also features niacinamide, helping reduce redness and irritation found within the skin. Hyaluronic Acid works to replenish moisture within the skin, keeping it hydrated without an oily feel.

Benefits

Universal tint, matching all skin types, to provide a flawless complexion
Antioxidant-rich, fast-absorbing SPF, featuring a high level of Niacinamide and Hyaluronic Acid
Niacinamide reduces redness and blotchiness
Provides UVA, UVB and Infrared protection
Light weight and oil-free formula
Ingredients highlights: Zinc Oxide 12%, Octinoxate 7.5%
Zinc Oxide:

 

Serves as a powerful UV filter against UVA and UVB. It also 

a skin protectant with anti-inflammatory and skin-calming properties, making it beneficial for sensitive, oily and acne prone skin.

Vitamin E:

 

V

itamin E can absorb the energy from ultraviolet (UV) light and prevent UV-induced free radical damage to skin.

Antioxidants: 

help with free radical damage caused by exposure to the sun. In addition, antioxidants may help protect skin against other sources of free radicals, such as blue light from digital devices.

Iron Oxide: 

is particularly good at absorbing UVA and blue light, also known as high energy visible or HEV.

Hyaluronic Acid:

 helps reduce the visibility of fine lines and wrinkles retaining moisture to the skin, creating a plumping effect. 

Niacinamide: studies have shown that niacinamide can help with age-related damage, decrease hyperpigmentation, and soothe irritated skin.
Amazing!
I love this product. It has all the ingredients I was looking for at the right price. My face feel soft and hydrated after using.